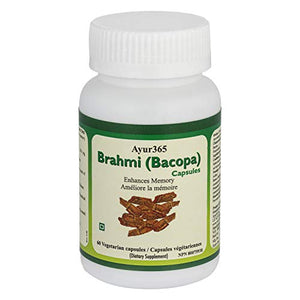 Pure Vegetarian capsules; No additives or fillers used.
Traditionally used in Ayurveda for memory enhancement.
Promotes Mental Agility and Cognitive Health
100 year-old formulation
Bacopa is called Brahmi in Ayurveda is derived from "Lord Brahma" the Creator God. In Sanskrit, it is called Saraswati , the Goddess of learning, knowledge and wisdom or the essence of the self. Bacopa has been widely used in Ayurveda for 3000 years to improve memory and intellect (medhya). Ayur365 Bacopa capsules are easy to swallow and have no taste and are available in 15 days Supply, and the recommended dose is take 2 capsules (1000 mg/serving) 2 times a day (before lunch and dinner). All Ayur365 products are manufactured in a cGMP facility and quality tested per stringent requirements. The product does not contain Sugar, Corn, Dairy Products, Gluten, Salt, Soy, Yeast or GMO.