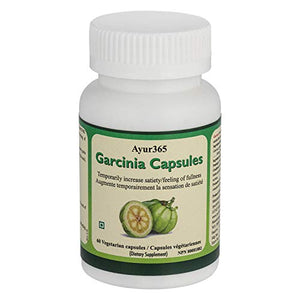 Pure vegetarian capsules; Safe & Natural; No Fillers or Synthetic Additives.
Helps to temporarily increase satiety/feeling of fullness. 
Supports Appetite control
Each Garcinia capsule contains 3000 mg of Garcinia gummi-gutta.
Studies have shown that the extracts as well as (-)-hydroxycitric acid (HCA), a main organic acid component of the Garcinia fruit rind, exhibit anti-obesity activity including reduced food intake and reduced body fat gain by regulating the serotonin levels related to satiety, increased fat oxidation and decreased de novo lipogenesis. HCA is a potent inhibitor of ATP-citrate lyase, a catalyst for converting Citrate to Acetyl-coenzyme A, which plays a key role in fatty acid, cholesterol and triglycerides synthesis. Ayur365 Garcinia capsules helps to temporarily increase satiety/feeling of fullness.
Ayur365 Garcinia capsules are easy to swallow and are available in 15 days Supply, and the recommended dose is 2 capsules 2 times a day before meals. All Ayur365 products meet the highest standards of quality and are manufactured in a cGMP facility and quality tested per stringent requirements, specially formulated to carefully preserve the unique properties of its herbal ingredients. It is a natural remedy that is the culmination of thousands of years of Ayurvedic wisdom, researched and refined for complete efficacy and safety. The product does not contain Sugar, Corn, Dairy Products, Gluten, Salt, Soy, Yeast or GMO.