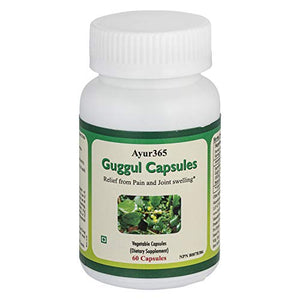 Pure Vegetarian capsules; Safe & Natural; No preservatives, additives or fillers used.
Relieves back, knee and wrist joint pain and swelling. Provides Natural Pain Relief and Joint swelling associated with Amavata (Rheumatoid Arthritis).
Also, Guggul is known to be used for obesity and reducing high lipids, cholesterol and triglycerides.
100-year-old formulation
Each capsule of Guggul Capsule contains 500 mg of Commiphora wightii stem resin
Guggul (Scientific name: Commiphora wightii), also called guggulu in Sanskrit which means "destroyer of diseases". Ayur365 Guggul is used for pain relief and joint pain associated with Amavata (Rheumatoid Arthritis), and to help relieve minor skin conditions and relieve minor urinary tract inflammations. Ayur365 Guggul capsules are easy to swallow and are available in 15 days Supply, and the recommended dose is 2 capsules (1000 mg/serving) 2 times a day. Do not use if pregnant or breast feeding. All Ayur365 products meet the highest standards of quality and are manufactured in a cGMP facility and quality tested per stringent requirements, specially formulated to carefully preserve the unique properties of its herbal ingredients. It is a natural remedy that is the culmination of thousands of years of Ayurvedic wisdom, researched and refined for complete efficacy and safety. The product does not contain Sugar, Corn, Dairy Products, Gluten, Salt, Soy, Yeast or GMO.