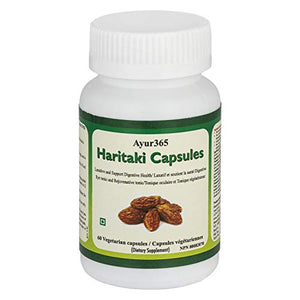 Vegetarian capsules; Safe & Natural; No Fillers or Additives.
Rejuvenative, Digestive & Eye tonic.
Relieves occasional constipation ( as laxative).
Ayur365 Haritaki capsule is Traditionally used in Ayurvedic Medicine for the relief of occasional constipation (laxative); as an eye tonic; as Rasayana (rejuvenative tonic); as a digestive tonic to promote digestive fire, increase appetite and aid in digestion (stomachic); help relieve colic pain and flatulence (carminative); help expel intestinal worms (vermifuge) and help relieve cough. Ayur365 Haritaki capsule is easy to swallow and is available in 60 days Supply, and the recommended dose is 1 capsule 1 time a day. All Ayur365 products meet the highest standards of quality and are manufactured in a cGMP facility and quality tested per stringent requirements, specially formulated to carefully preserve the unique properties of its herbal ingredients. It is a natural remedy that is the culmination of thousands of years of Ayurvedic wisdom, researched and refined for complete efficacy and safety. The product does not contain Sugar, Corn, Dairy Products, Gluten, Salt, Soy, Yeast or GMO.